Take advantage of the Premium Economy cabin to rest, read or work in total freedom. With more space and increased peace and quiet, you travel in a personal haven of comfort.
Your health and well-being is our highest priority. In light of the current health crisis, we have adapted our services at the airports, lounges and on board our aircraft to ensure you have a safe trip.
Thank you for your understanding.
New Premium Economy cabin: even more comfort for you!
On our Boeing 787 flights, discover a completely redesigned cabin: wider seats with an enveloping shell, in a private space… so you can travel in peace.


A spacious cabin and a comfortable, contoured seat
A privileged travel space
Let us delight you with the Premium Economy cabin! Entirely designed with your well-being in mind, this cabin is available on our intercontinental flights. Its elegant design brings about a sensation of relaxation and space, perfect for rest or work. The Premium Economy cabin allows you to travel in perfect serenity: the cabin is separated by a divider on both sides and contains a limited number of seats.
A comfortable and adjustable seat
Equipped with a large and relaxing seat, the Premium Economy seat gives you 40% more space compared to the Economy cabin as well as multiple storage areas. The seat reclines within a fixed area to ensure your personal space and comfort for all. For your ultimate well-being, your headrest, foot-rest and leg-rest adapt perfectly to the contours of your body.
Everything you need for work and entertainment
To make sure you can enjoy work or play independently, the Premium Economy seat also includes a number of features:
a wide personal touchscreen, available throughout your flight
a noise-reducing headset
a personal, adjustable reading lamp
an electronic PC outlet and a USB port*
* Available on most of our flights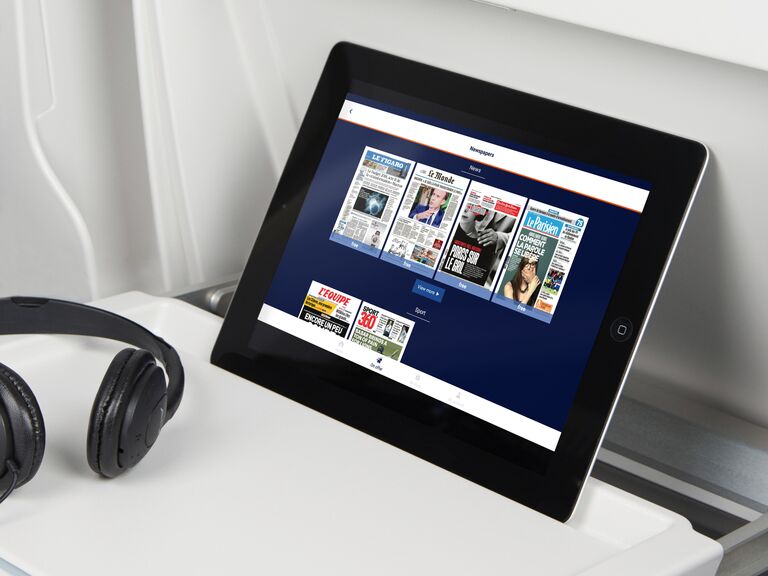 Extra touches on board
Throughout your flight, we're here to take care of you!
Once on board, the cabin crew will offer you a chilled oshibori towel so you can freshen up before your meal. You will also receive a comfort kit, redesigned every 6 months, and a bottle of water.
For a comfortable rest, snuggle up with a fleece blanket a feather pillow.
As a final goodbye, our cabin crew will offer you some sweet treats.
Calm and relaxation: preview the new Premium Economy cabin
Discover the Premium Economy cabin using our virtual tour platform. Explore this haven of comfort in a private cabin located at the front of the aircraft. Your privacy is guaranteed throughout your flight.
Please note: if your flight is provided by one of our partner airlines, certain Air France services may not be available on board or at the airport.